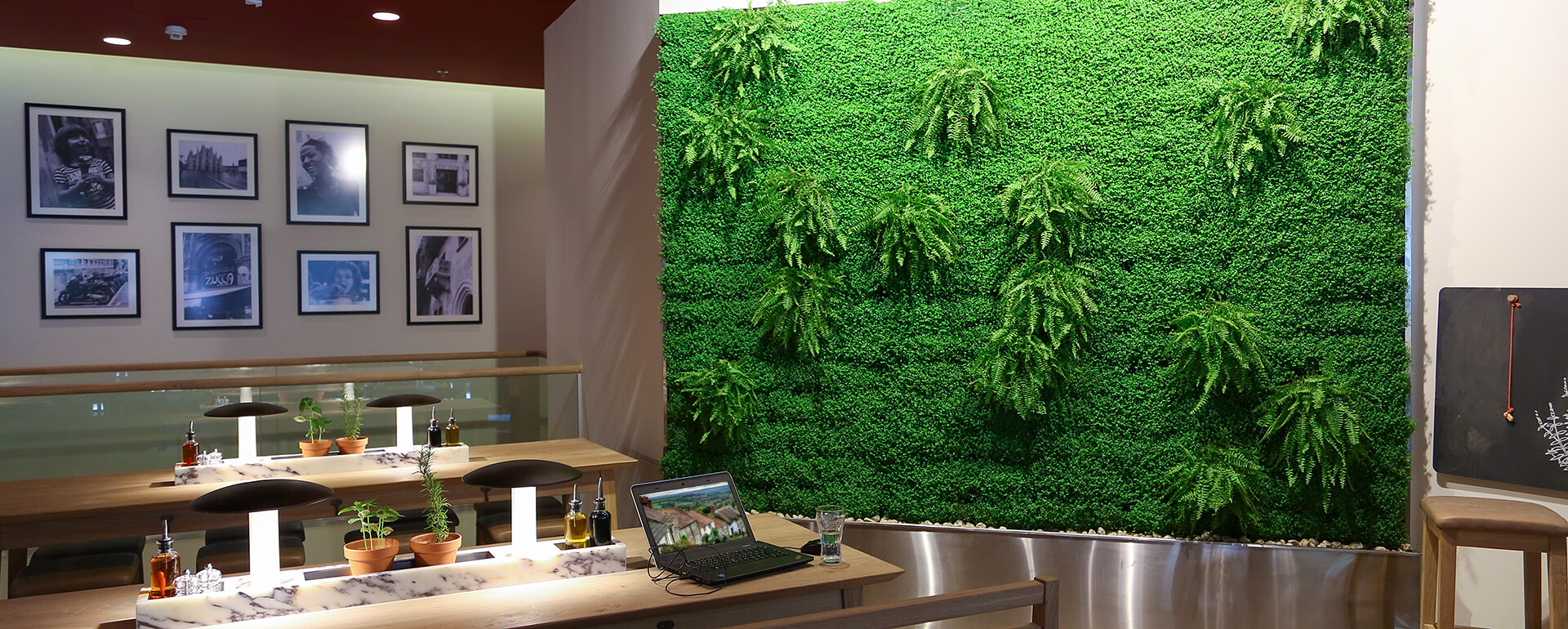 People are weary of urbanization – cities are overpopulated, packed with cars, megacities lack green spaces to arrange recreational areas. Frankly saying, the situation is such that it's quite a challenge for a person to enjoy rest in a beautiful green area, and this is a must to stay in good health and keep high performance. We can even say, this is a great contributor to your success and life achievements. Are there any ways to handle the problem?
LoraShen offers a unique solution to create a green space in your living or working space – what we mean is vertical landscaping. A great solution that gains more and more popularity worldwide. And in Ukraine, this technique is actively promoted by our company, where you can address our field specialists to create a little paradise in your space. There are very few alternatives to this type of space decor in a modern city, so we suggest that you give closer attention to this technology.
Vertical gardening for your apartment allows you to add vitality to the design and create a beautiful, stylish and cozy interior using green plants. This technology can make even a small space look vibrant by creating amazing green walls being very space effective and looking gorgeous!
If you love nature, want to live in harmony with it and are keen to create a place where you can enjoy a good rest in the midst of beauty and harmony, vertical wall gardening would be the best option for your home.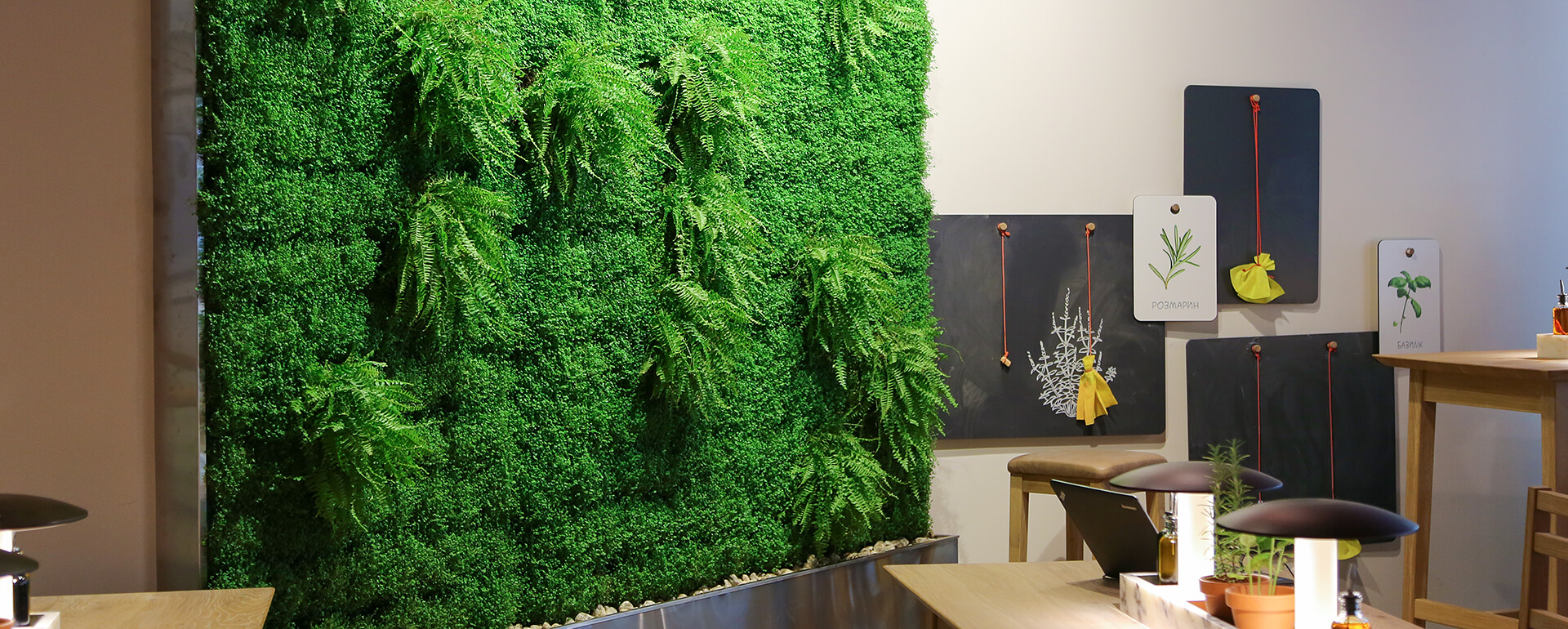 Enjoy the benefits of this technology:
great space effectiveness;
beautiful design;
quick assembly;
good price;
easy care;
better microclimate.
No doubt, this is the technology of the 21st century since it allows having comforting living conditions even in a small city apartment. The technology is very flexible and allows creating the needed vertical gardening design, easy care and long life of the green decor. Wall hanging rug is a thing of the past, now it is time for naturalness, beauty and sustainability. Use the unique opportunity to arrange vertical landscaping in your office, house or apartment and turn your environment into a perfect living place.
And now let's have a closer look at what LoraShen has in stock and what services may be of interest for you.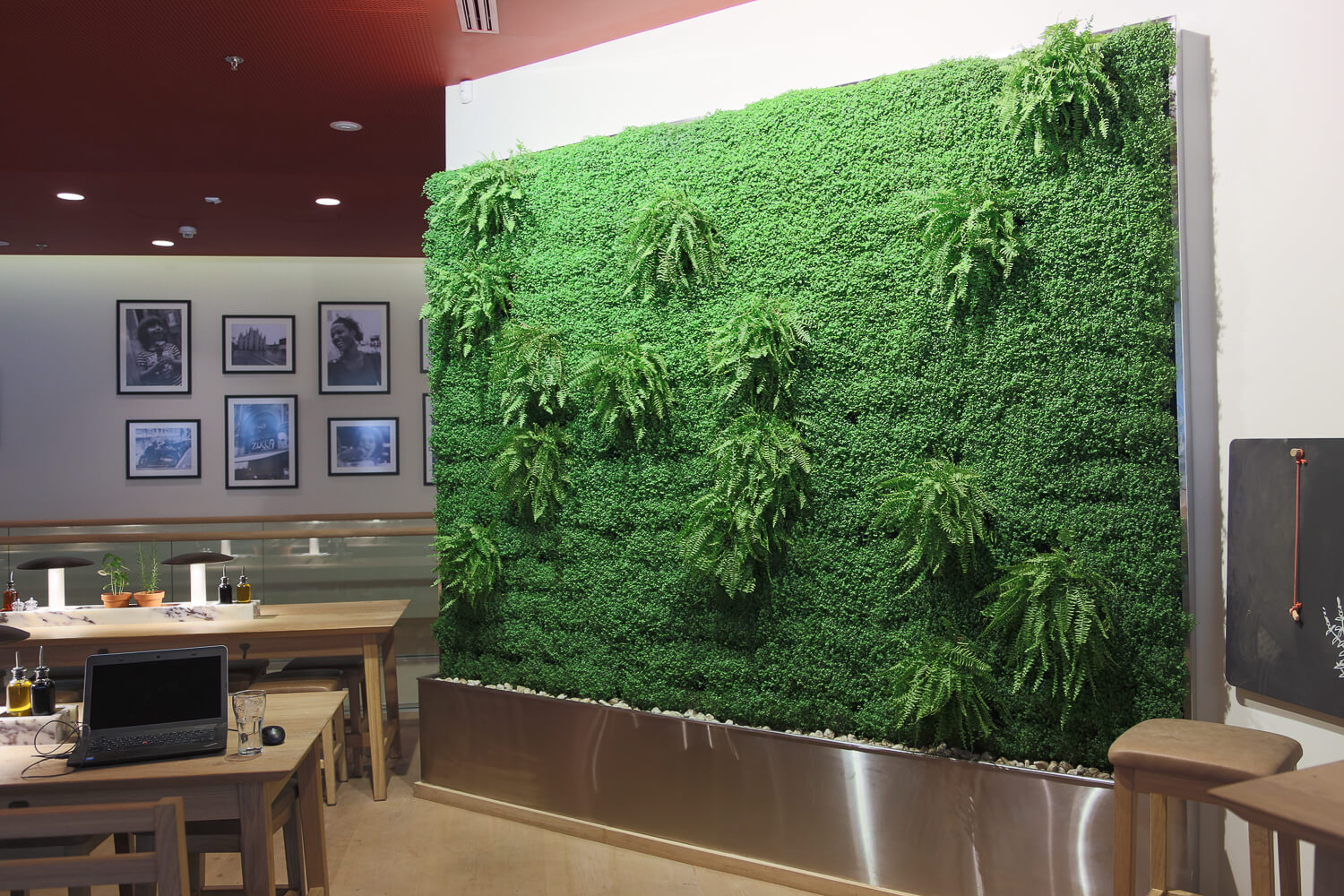 Custom design.
Indoor vertical landscaping, starting with the design development. On this stage, our specialists work in conjunction with a client. Our employees may further develop already available client's ideas and prepare a visual layout for the client to see how it will look in real life. If a client has no ideas yet, our experts will develop few design options for the apartment or house for a client to select from. During the process, we also consider preferences and wishes of the request customer. We do care to create the most comfortable environment possible so that all dwellers feel comfortable and enjoy the ambiance. Therefore, we are very mindful of the taste, lifestyle and habits of our clients – in enables us to deliver indoor vertical landscaping where each and every family member would feel comfortable. This personal touch allows to keep our high profile.
If you want to have interior that will be perfectly integrated into your environment, that would match your lifestyle, then do contact LoraShen!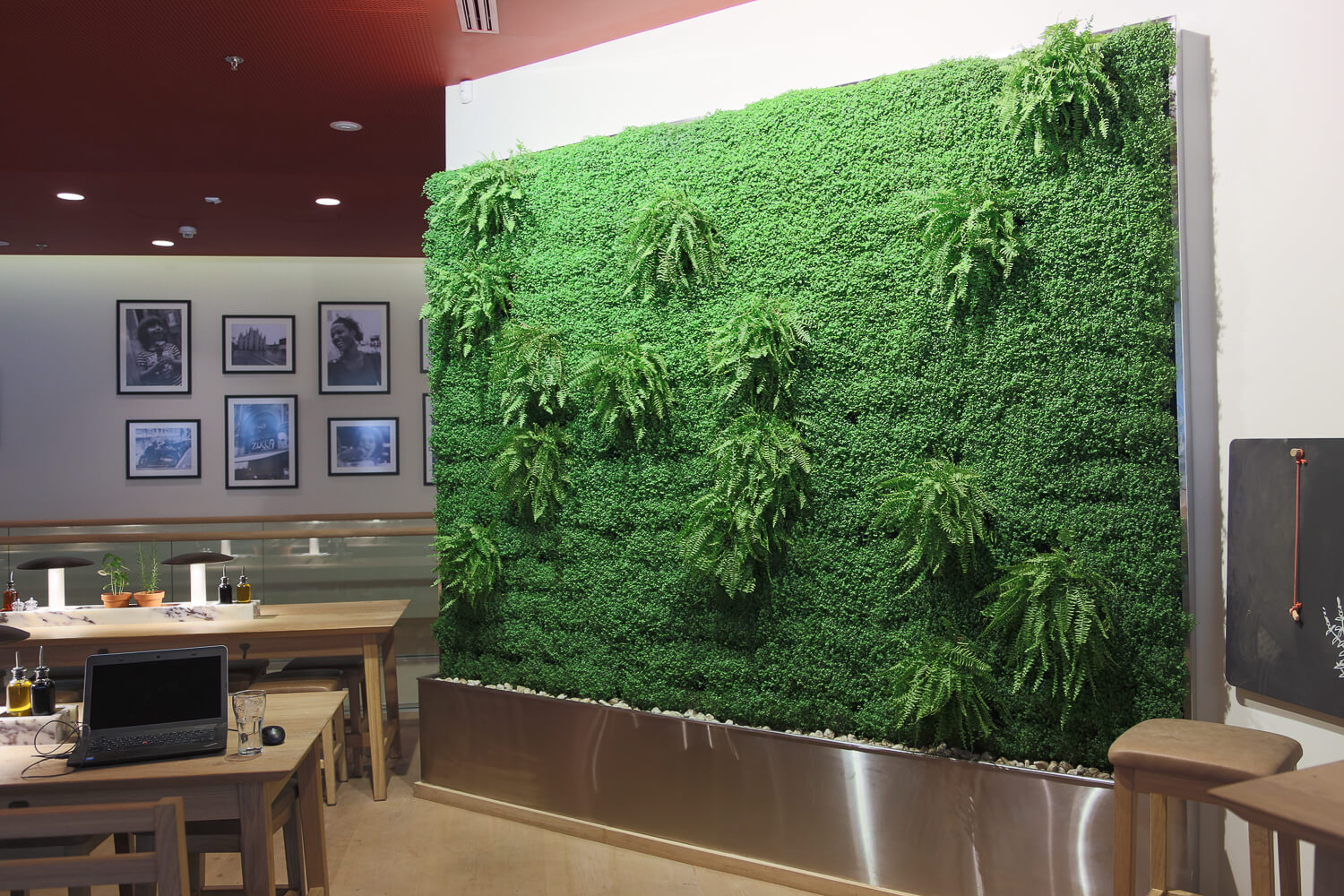 Plants and soil picked by experts.
Once the design is approved, our employees take off to implement the project, which covers a series of works. A huge part of successful project is properly selected plants and soil. It is extremely important to pick the right plant so that you don't waste money and efforts. Leaving minimum efforts for the client to look after the created design, and for the plants to grow healthy and develop correctly is also of essence. The experts pick the plants in accordance with the design. They may be ampelous plants, evergreens, decorative vines, chlorophytum, etc. Let's not puzzle you with these hard plant names, but we rather tell you something important – our designers will pick plants based on your project specifics, that will grow beautiful and in a right way and you will have no problems looking after them.
Besides selecting the right plants, choosing the right soil is also important. This will ensure that their root system, stem, leaves develop correctly. Plants get nutrients from the soil and it influences on how they look. We will pick the best soil texture for your plants to ensure their proper development in an apartment or office space. Thanks to this, you will have no problems with your green wall and will be able to enjoy it for a long time. LoraShen offers a unique opportunity to order vertical landscaping at a price that covers all types of work and leaves a customer with minimum fuss and good cost.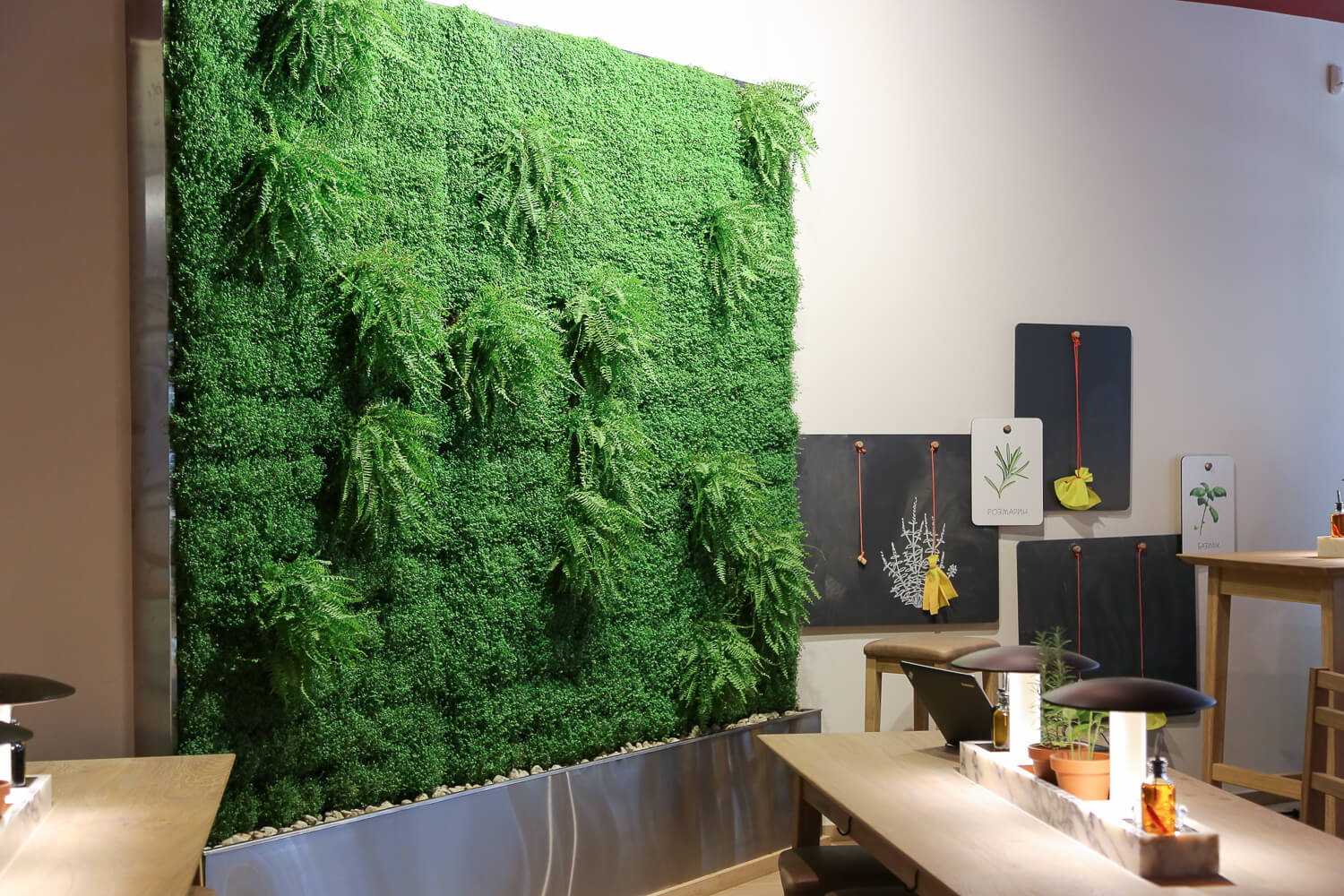 Proper watering and lighting
Any green project has many details to consider and proper watering is one the most important. It is the fundamental for the proper care, and success of the green wall depends on how well the plant watering is arranged in the premises. Our company staff will get the best option for your project, ensure the necessary equipment and its proper installation. Once the project is set and ready, LoraShen customers are always satisfied with how everything functions – they have no problems, plants grow and are watered as they should be. We can create fully automatic systems to water plants according to their needs. We will pick the best option to fit your demands. Many people show interest to purchasing vertical gardens for their apartment or office, but it is always important to know how to look after the purchased equipment. Our experts will become your trusted aide in this matter.
And finally, let's talk about lighting. Such projects require special attention to detail, a good understanding of specifics of how plants develop, and so on. Plants may have great irrigation but wrong placing will cause lack of light and they will develop poorly. Our staff will ensure your plants have the best lighting. LED lamps, spot lightning and other options may be used. We design lighting system that has adjustable radiation spectrum so that it is contributes to the proper plant development as much as possible.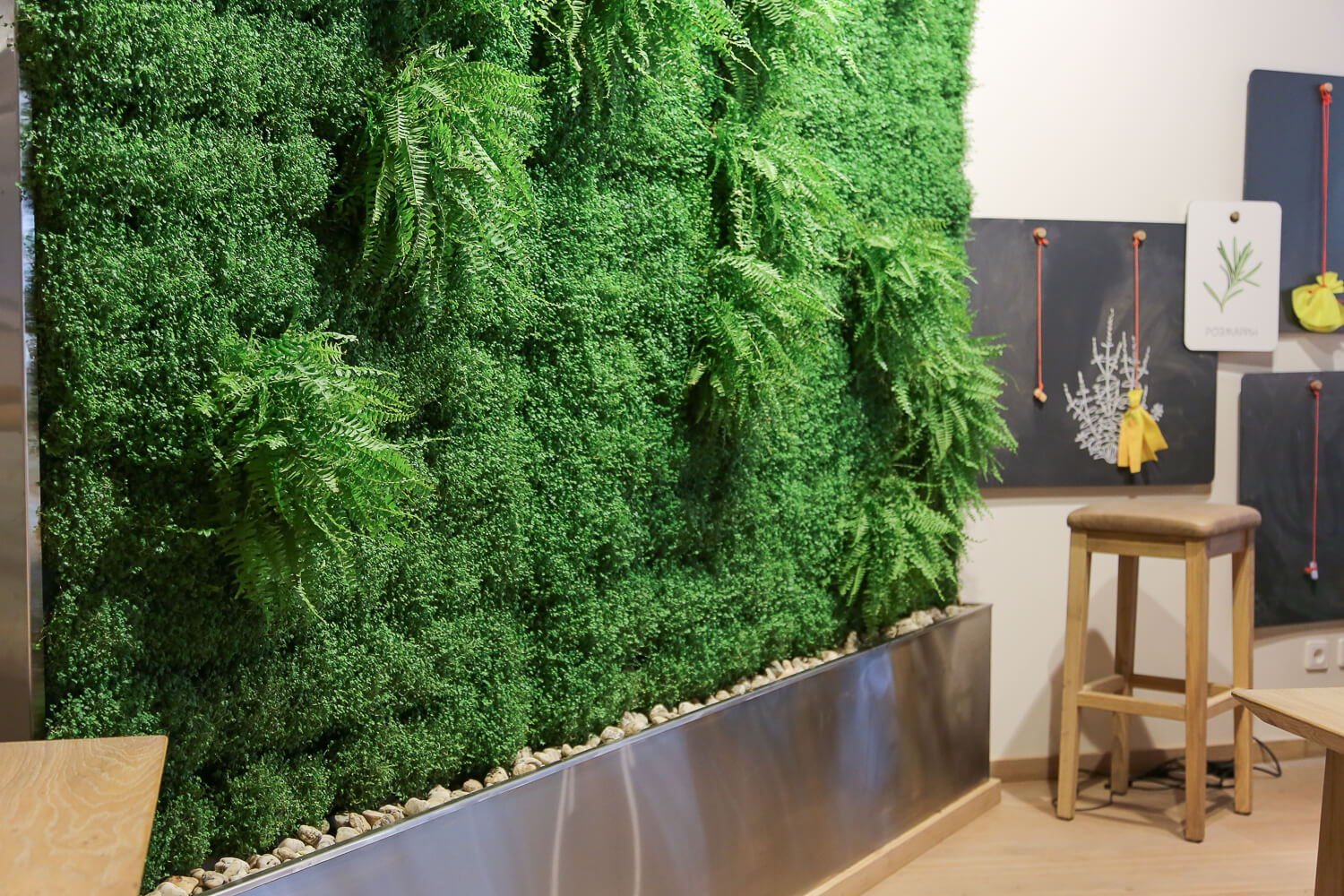 As you can see, there are a lot of details to consider and they are only a small portion of the issues to think of when designing a vertical landscaping project for an office, apartment or any other premises. But no worries – we will take care of all little things and provide you a turnkey solution. This will make the project implementation for you as simple as possible with no fuss.
To get advice and order services, please call us at:
+38 (067) 247 79 71
+38 (044) 492 28 38
Or we would be glad to receive your request to our e-mail: shop@lorashen.com.ua