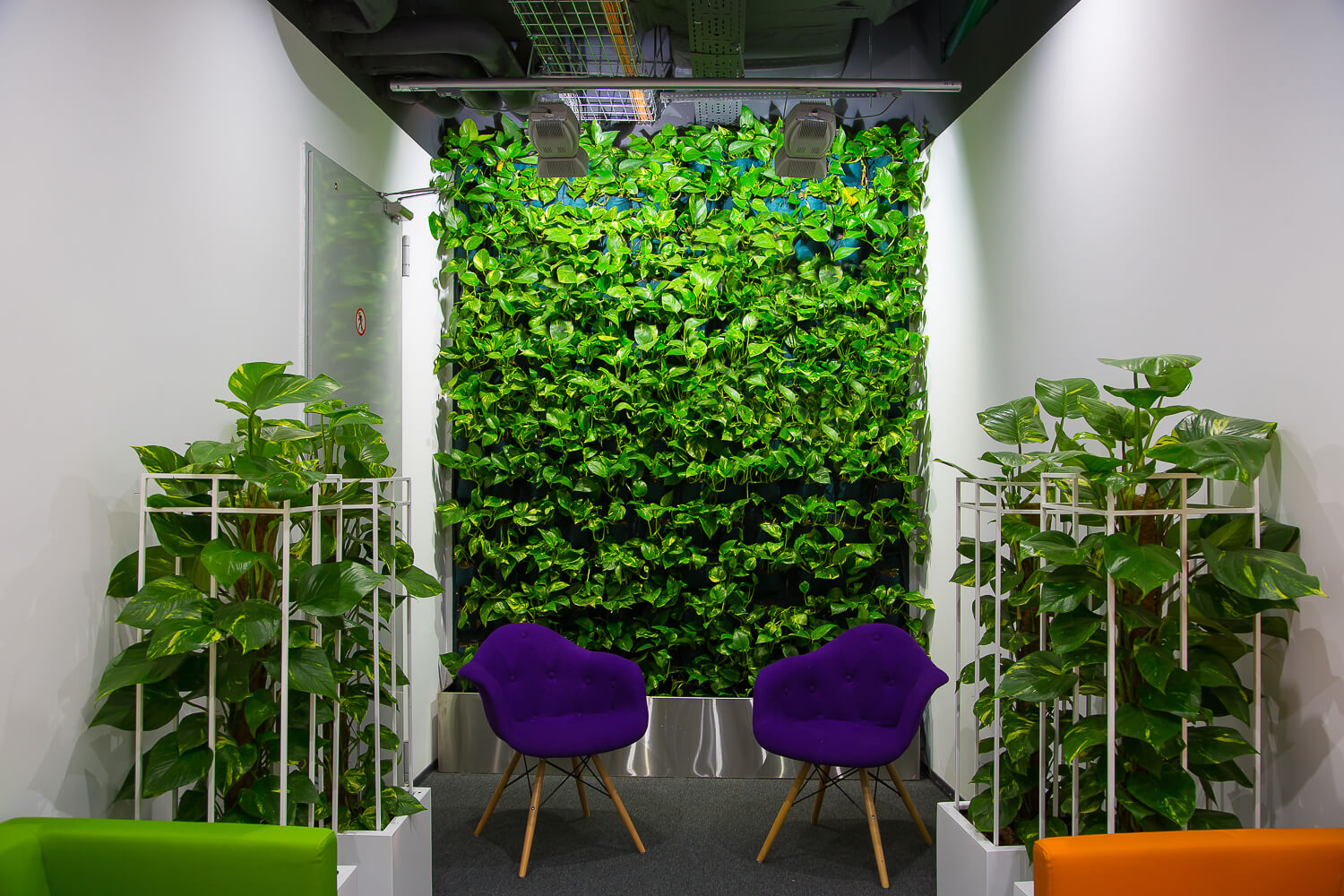 We are glad that you've clicked on this section, that means you are in search of a creative solution for your office or a business center, you care for your company's image and creating favorable working environment for your staff. You took the right way, and the next step to do is to choose a good contractor. LoraShen is here for you to offer its services: green design for offices, business centers and enterprises is what we specialize at, and we have been successfully doing this for a while. Our portfolio includes a variety of projects in this sphere, so do not hesitate to contact us if this is what you are looking for.
With phytodesign by LoraShen, your office will obtain a unique corporate image for your company and comfortable environment for the employees, which are important factors for your company's prosperity. We recommend to contact us and order this service – you will benefit from our offer.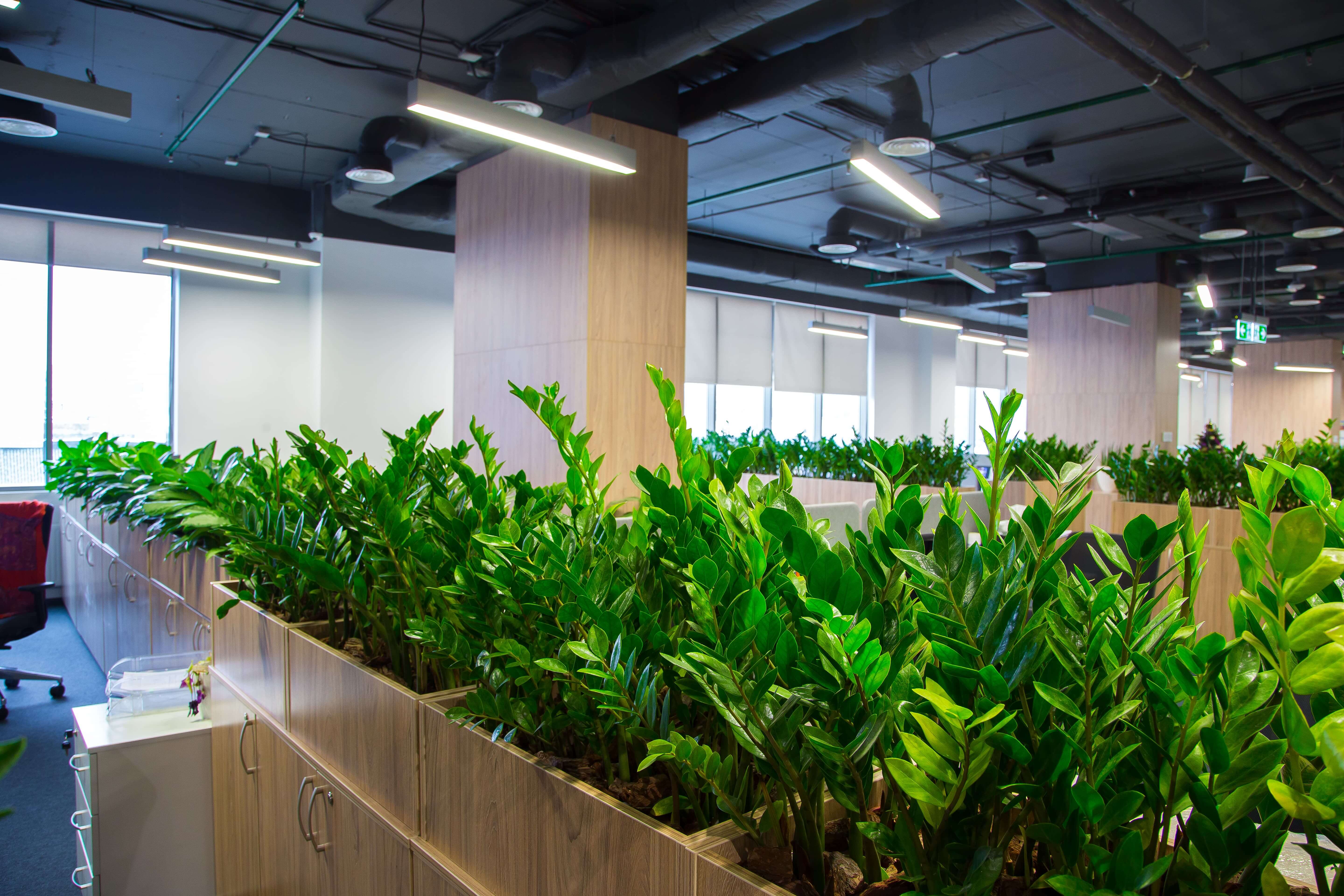 Below are the benefits that you'll get once we become your contractor:
custom design that reflects your brand
guaranteed quality of works
modern phytodesign technologies
turnkey solution
clear deadlines
Thanks to the vast experience in traditional and vertical greening of business centers and office spaces we can take on any project and deliver the best result. This is where the knowledge, experience, modern technologies are important – they are key for delivering quality services. Our staff has everything necessary to implement your project and they are ready to get the work done.
Let's talk about the benefits you get if you choose us.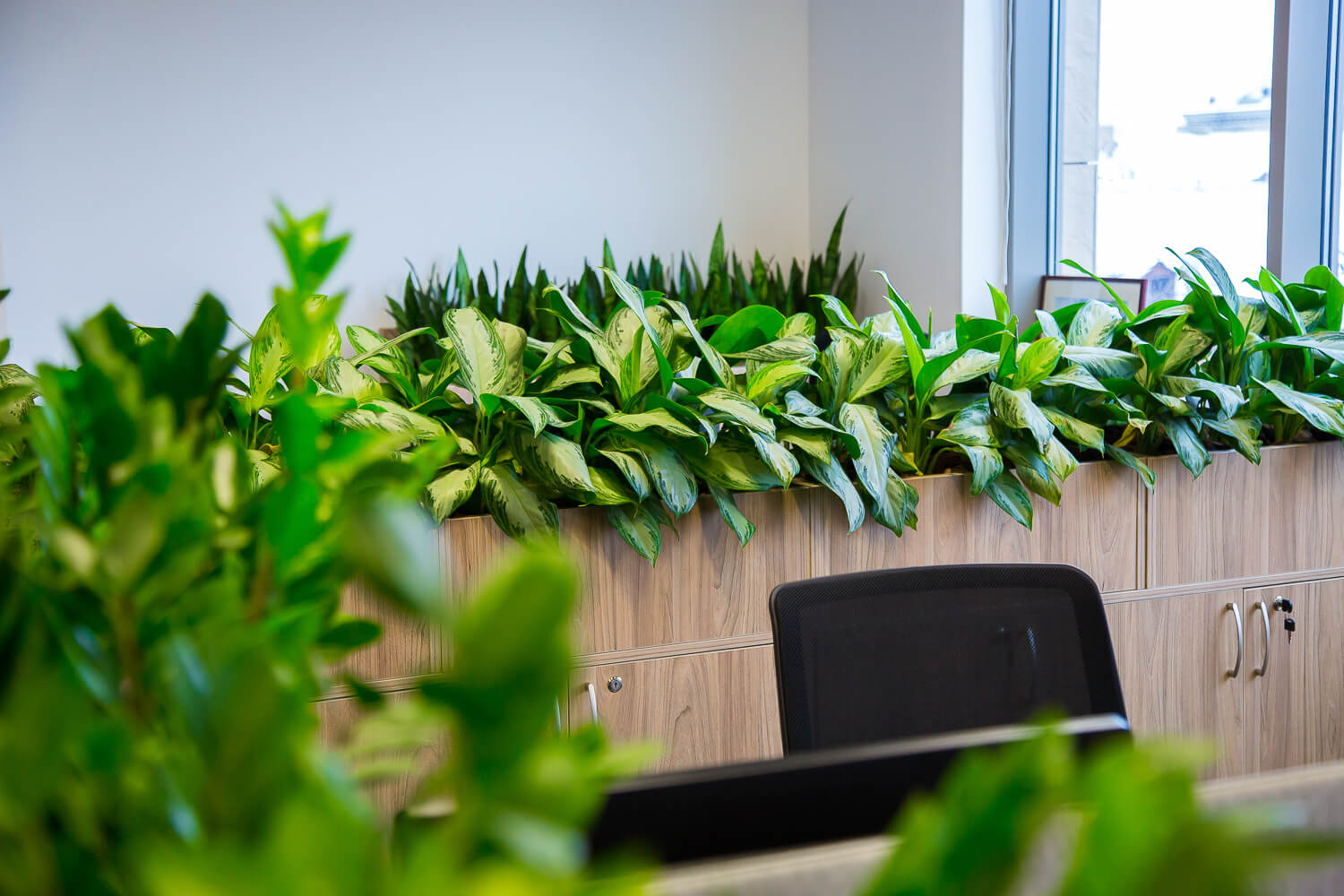 Custom design and turnkey green solution
When developing sustainable design for business centers, companies or offices, it is very important to take into account the attributes of corporate culture, and this might be challenging. Add-ons that match the brand's corporate colours, properly arranged plants, an automatic plant treatment system and others are things that need to be taken into account. Each task is different so the project needs an integrated approach.
First, our designers will meet you to learn your wishes and individualities of your brand and corporate culture. After that, we will offer you a greening project which will serve as a basis for future works. You are always free to offer your ideas which we will take into account and bring them to life. For us, it is important to deliver a successful project, and for that teamwork is crucial. This does not mean you have to spare time to dig into details, once the project is approved, our team will set off to work to bring the idea to life. We will be using a variety of greenery technologies which include green walls for the office premises, decorative hardwoods in a cache-pots, etc. We have plenty of solutions and they will be available for you once you choose us.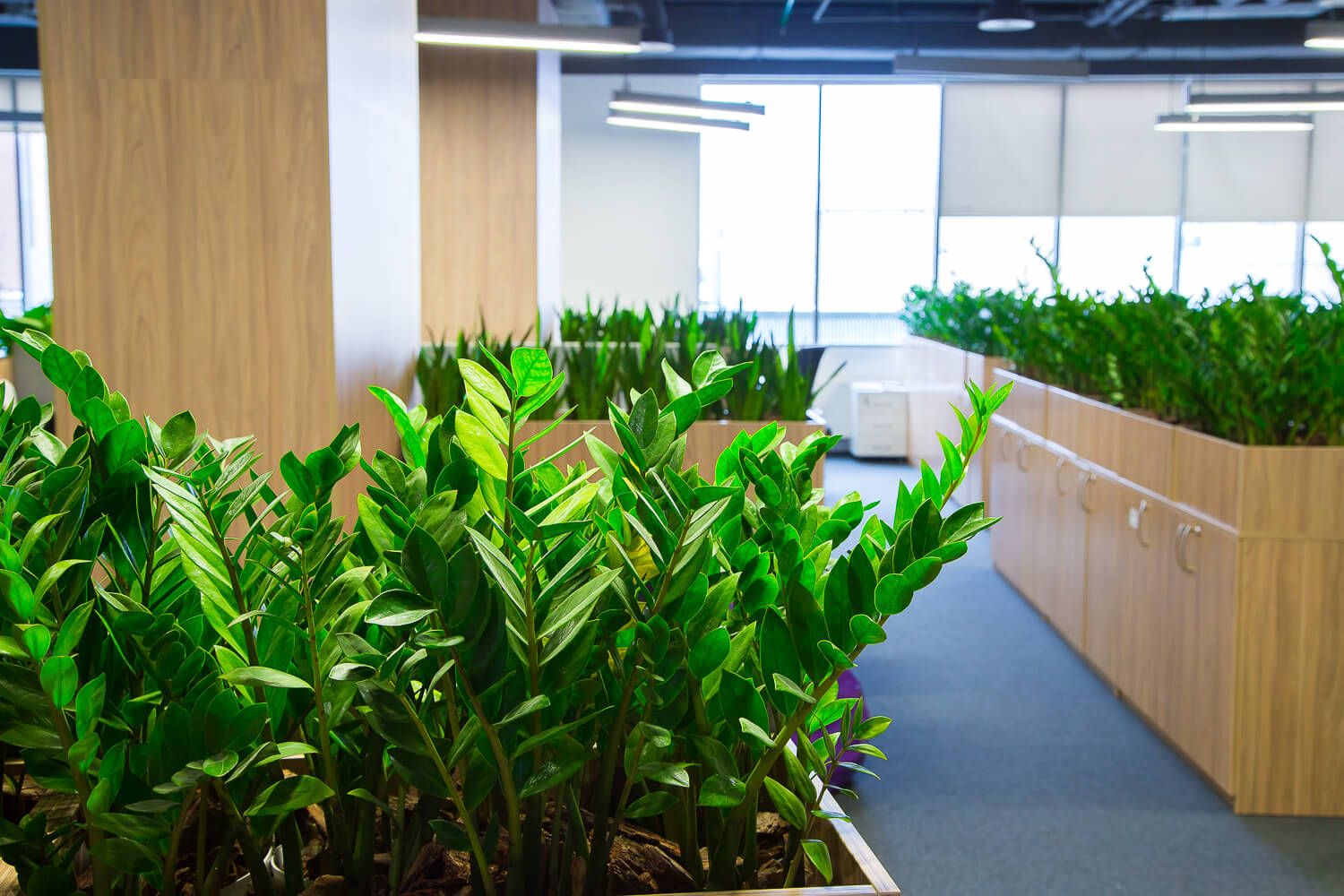 We offer:
flowering plant arrangements in planters
living walls
decorative stabilized plants
living plant pictures (shaped as the company's logo, as well)
artificial plants on vertical surfaces
Whatever you choose, we will handle all the work fixed by the project on a turnkey basis. You will get a unique and skillfully-made green design. With our green design, business centers get an absolutely new look and the staff performance increases. We recommend contacting LoraShen and ordering a greening service for your office or business center to guarantee the success of your business!
There is one more important thing to mention – we design an easy-to-use plant care system, which is automatic to make the maintenance easier. It won't take you much effort and money to look after the green design – we will use the state-of-the-art technology and quality equipment. If you are interested in living green walls for a business center or office, make sure you take this into account. Quality, easy care, long life of plants, and modern technology guarantee effective use of your costs. Convenient cooperation. In order to start cooperation, you need minimum effort.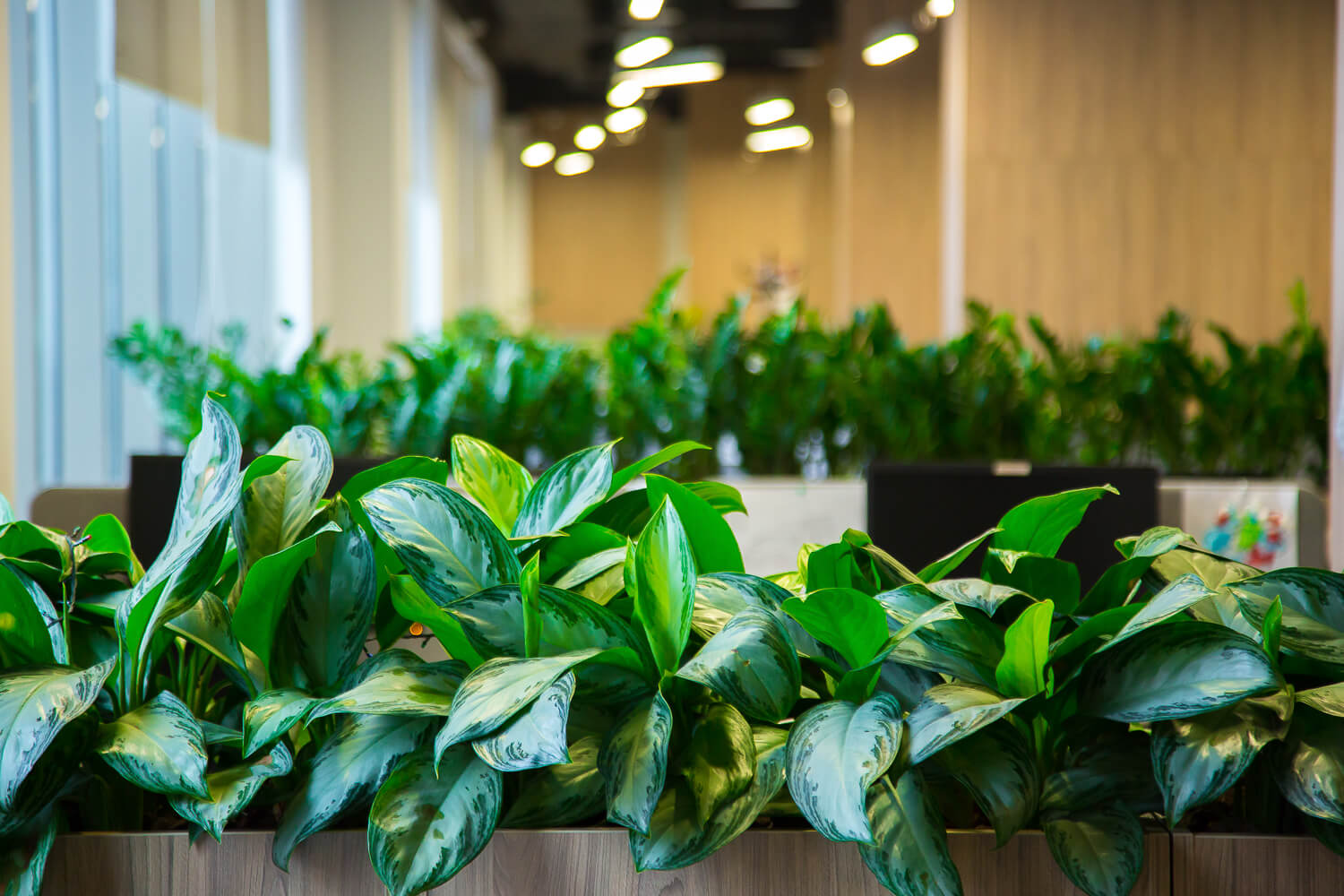 Simply dial one of the phone numbers below:
+38 (067) 247 79 71
+38 (044) 492 28 38
Or e-mail your request to: [email protected]
Cooperating with us is easy:
our employees visit your office to learn about the interior
based on the data received and your wishes, a greenery project is developed
you approve the project
we implement the works fixed by the project
we deliver the turnkey project on the deadline set by the contract
If you need any advice about cooperation or project, you can always contact our employee and get any information.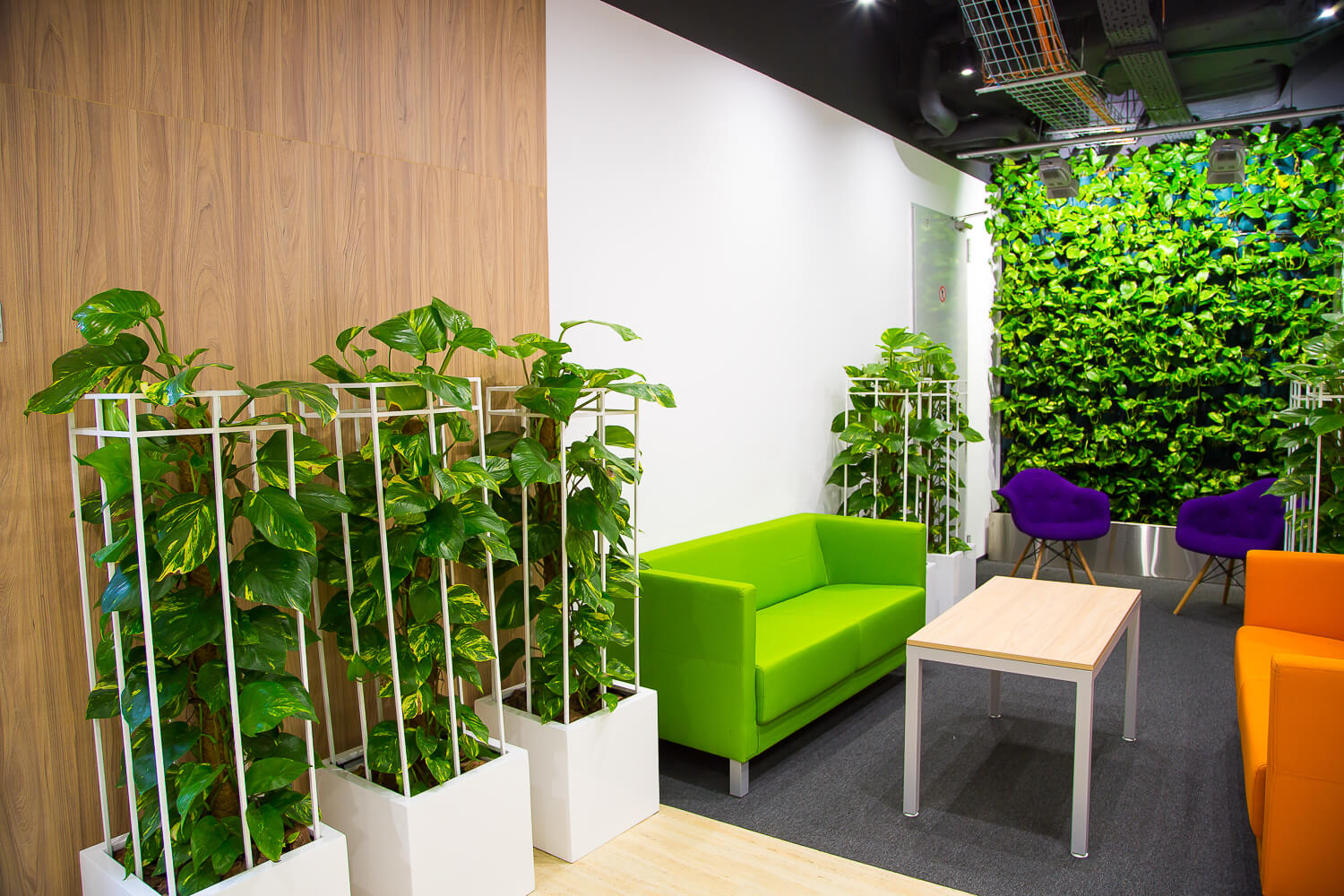 You can contact us regardless of where your office or business center is located. Our company does green beautification for offices and business centers throughout Ukraine, including Kiev, Dnepr, Odessa, Zaporozhye, Kharkov, Lvov and other Ukrainian cities. We provide guarantee for our works and the best conditions for cooperation. We strictly observe the deadlines and deliver the turnkey project on time. Also, we provide maintenance, supplies and advice.
Have a green design for your company, office or a business center ordered at LoraShen – we guarantee high quality, custom design, and good price.